Colin Feltham, LL.B

Partner

Roebothan McKay Marshall

| Insurance | Personal Injury | Professional Liability | Traffic Offense |
Colin is a partner with Roebothan McKay Marshall, with nearly 20 years' legal experience. With a practice focused on Motor Vehicle Accident and other Personal Injury, Medical and Dental Negligence, and Insurance Law, Colin pursues his passion for giving a voice to the vulnerable on a daily basis. It was that same passion that served him in past roles as Vice President of the Saint John Boys and Girls Club and Director of the Saint John Anti-Poverty Association. Today, Colin's time outside of the office is spent with his wife and three children, often taking family trips to their cabin in Ocean Pond.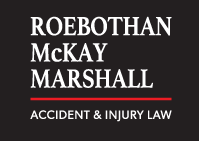 Colin Feltham, LL.B
Partner
Roebothan McKay Marshall
34 Harvey Road, 5th Floor Paramount bldg. St. John's, NL A1C 3Y7 Canada
| Insurance | Personal Injury | Professional Liability | Traffic Offense |