Stewart G. Thomson

Partner LL.B.
Thomson Mahoney Delorey
| Business | Corporate and Commercial | Estates and Trusts | Real Estate |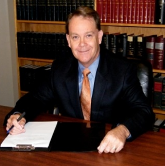 Stewart is one of the founding partners of the original predecessor firm of Thomson Mahoney Delorey, which was established in 1981. He was born and raised in London, and is married with 2 lovely children and 2 beautiful granddaughters. Stewart's area of practice is as a traditional solicitor, which include Real Estate, Wills and Estates, Business law, Corporate Structures and Reorganizations. Alongside his passion for law, Stewart loves to play golf.
Stewart G. Thomson
Partner LL.B.
Thomson Mahoney Delorey
200 - 145 Wharncliffe Road South London, ON N6J 2K4
| Business | Corporate and Commercial | Estates and Trusts | Real Estate |