Michael David Lannan B.A., LL.B.
Michael David Lannan B.A., LL.B.
7 Duke Street West, Suite 303 Kitchener, Ontario N2H 6N7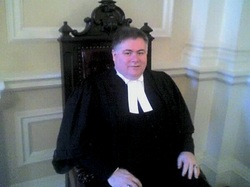 Michael is a graduate of Humber College (Business), Wilfrid Laurier University (Geography) and the University of Windsor, Faculty of Law. He completed the Law Society of Upper Canada Bar Admission Course in 1992 and was called to the Bar of Ontario in February of 1994. Michael has training in mediation from the University of Toronto and Ohio State University and has completed the Canadian Securities Course. Michael has experience in all levels of Court and tribunals including the Court of Justice, Superior Court of Justice, Divisional Court and the Court of Appeal of Ontario. Michael has four children. His oldest daughter is a graduate of the University of Guelph and Nippissing University and his Son is a graduate of Wilfrid Laurier University. One daughter is at Wilfrid Laurier University and his youngest daughter is in grade 12.